While discussing hairstyles for goths, we had mentioned classic goth hairstyles. there are various types of goths like Victorian Goth, Fetish Goth, Cyber Goth, Industrial Goth, trad goth, romantic goth, death rocker, emo goth, and so on.
In the previous article, we briefly introduced the goth makeup looks, then in this article, we take the trad goth makeup as the main perspective, and talk about how to do a trad goth makeup!
What is trad goth?
When the gothic subculture began to dominate in the 80's, the first genre to be introduced is now known as Traditional Gothic, an abbreviated form of the word "Trad".
Influenced by the rock and punk styles of the 70's and 80's, this gothic style would leave its mark on traditional gothic clothing, jewelry, make-up, and hairstyles.
If you've seen the 1991 movie "The Addams Family", then you'll understand the fascination with this style!
Trad goth features:
Very pale skin
Black hair (usually black)
Black fishing nets (usually torn)
Straps (e.g. grommet straps)
Leather boots
Double spiral drill
Smokey eye makeup
Chains and bracelets
Metal necklaces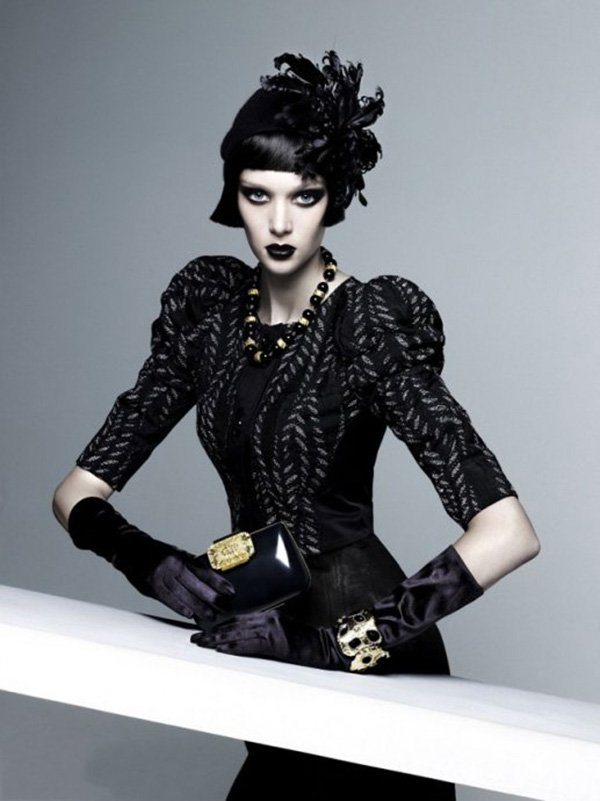 Makeup needed
Foundation: the whitest shade you have, or one shade whiter than your skin tone
Eyeshadows: just use everyday eyeshadows, make sure you have the color you want, usually red and blue.
Mascara, false eyelashes, eyeliner… You can never have too many eye makeup products
Embellishments: sequins, metallic orbs and other small accessories that can be used around the eyes or anywhere you want to highlight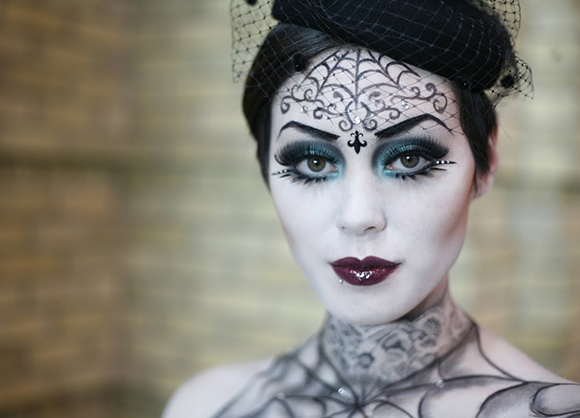 Step One: Foundation
We all know that pale skin is the foundation of the gothic look, so refer to a foundation that is one to two shades lighter than usual when applying your foundation.
Use the lightest color of setting powder to set your makeup.
The gothic look is a delicate one, so we must not let the base makeup as a "canvas" appear dirty, want to base makeup natural and long-lasting, you can use your hands to apply foundation directly on the face. Because trad goth makeup tends to be thicker, we don't use a puff, use a makeup brush to spread the foundation on the face. This ensures that the base makeup is flattering and the foundation is even.
One other thing to keep in mind when going for a leveled base is a makeup primer. Only with a good makeup primer can we prepare a competent canvas for our foundation.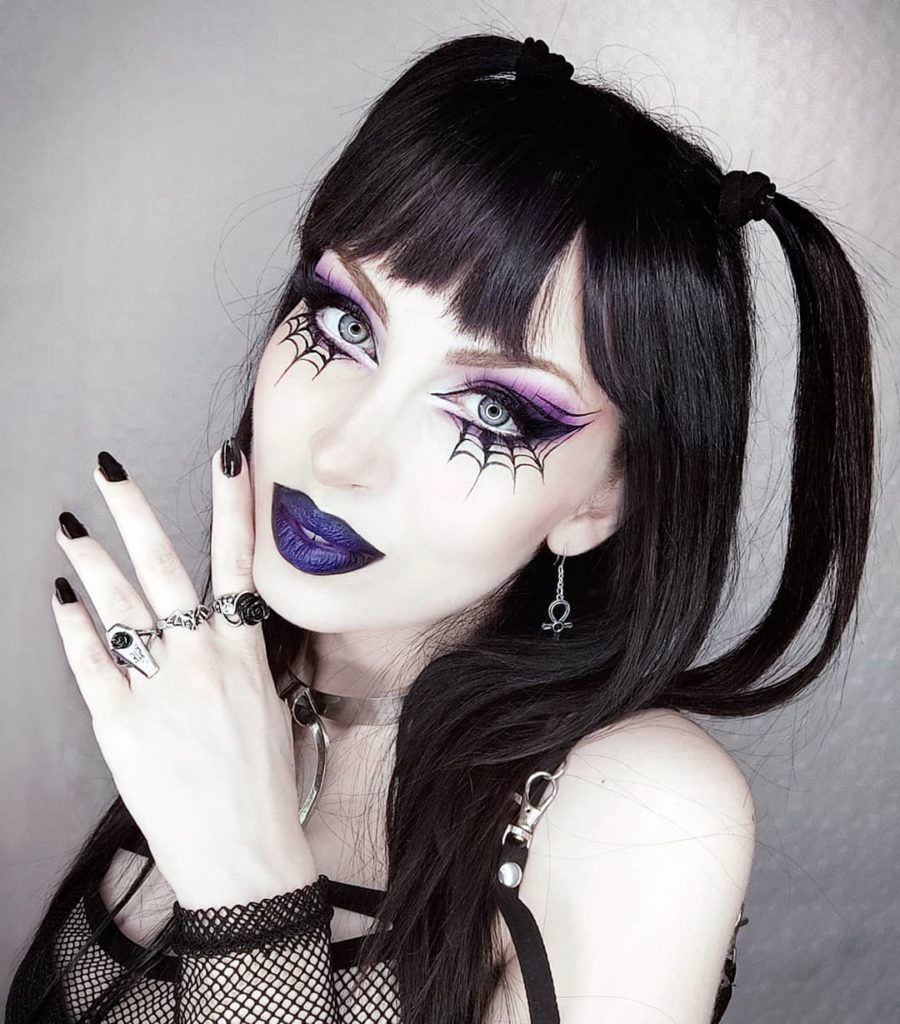 Step Two: Eye Makeup
Eye makeup is the focal point of the entire goth makeup look, and the finer the eye makeup the higher quality trad goth makeup is achieved.
Don't be afraid to overdo it. After framing your eyes with eyeliner, use layers of black eyeshadow in the effective area covered by the eyeshadow, and then smudge them with gray eyeshadow to create a decadent look.
For a more advanced look, consider a deeper shade of red eyeshadow and a pair of maroon pupils for a vampy glamorous look – perfect for the upcoming Halloween season!
Green and blue are also good choices, with blue adding a cooler tone and green adding a spooky and mysterious vibe. The color palette can help you create a gothic makeup look with a certain theme, and if you just like a certain color, that's ok too, it's not binding.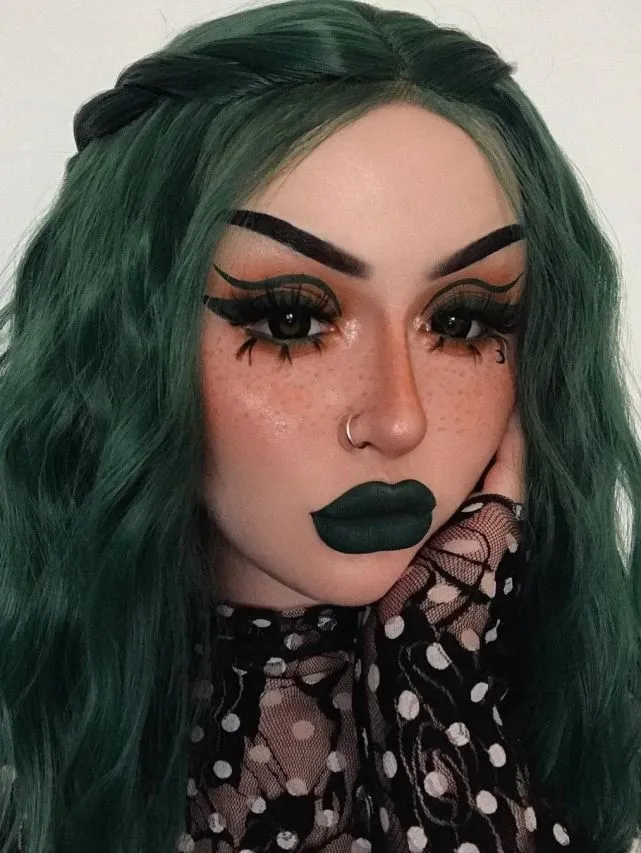 Step Three: Lip Makeup
【Colors】
Blackberry, Black, Dark Red
【Recommended Lipsticks】
NYX #LCSL21 Taro Violet Gray
Wycon #31 Dark Mulberry Gray Violet
Sephora #44 Cement Feel but Beautiful Color
YSL #24 Intense Deep Purple Dark Punk
MAC #125Caviar Matte black, strong coverage
【The way it's applied】
After the beige base, dip your finger in plum, cranberry or other creams in the center of the lips to create the effect of biting through the blood color of the lips.
After priming, lightly apply a light color (grey system) lip glaze, and then apply heavy tones (black, deep purple, mulberry, dark red) in the middle of the lips.
For trad goth makeup lip makeup, priming is a very important step to hide the original lip color in order to better show the color of the lipstick.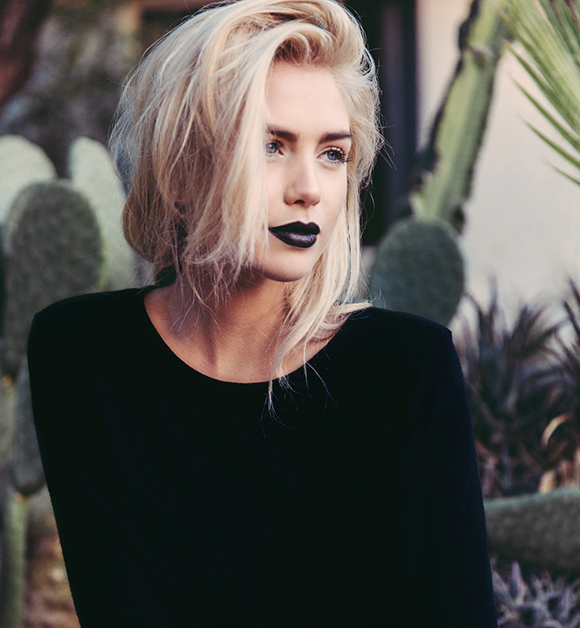 Step Four: Contour
After the above two steps, we already have two delicate parts of our face, lip makeup and eye makeup. Since too much contour can easily ruin the overall delicacy, and may accidentally make the makeup look dirty.
Therefore, the main grooming parts of trad goth makeup are in: 1. nose; 2. cheekbones.
The nose of the grooming, is to make the nose appear more three-dimensional, drawing eyebrows goth makeup design lies in the eyes and lips of the sense of coordination, so ignore the eyebrow color, the lighter the better.
The grooming of the cheekbones, only need to use the grooming brush to shallowly bring over a few strokes, depicting the shape of the cheekbones can be.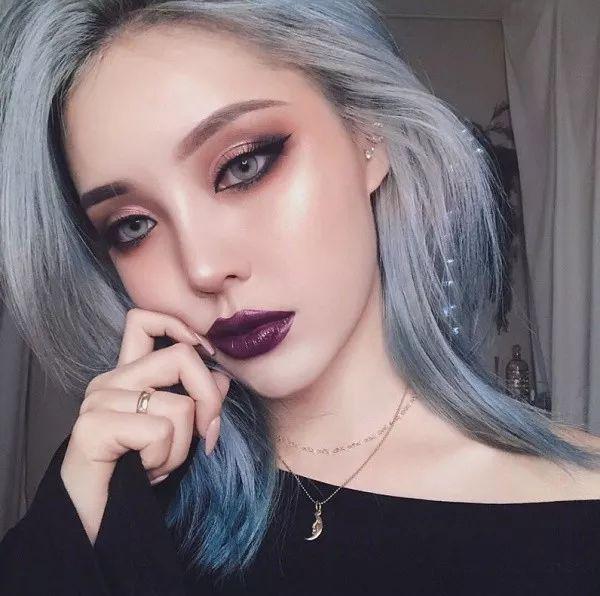 Step Five: Facial Decoration
I'm not talking about nose rings, earrings, hair clips, all that. For this step, I'm only talking about facial adornment, like I mentioned in Makeup needed above.
I know some will draw a little heart (pink is good, black is also stunning) in the corner of their eye with eyeliner, or embellish a teardrop shaped diamond, or mimic a cute little freckle in the shape of a blush. You can check the tear drop makeup and tear trail makeup mentioned in our last post.